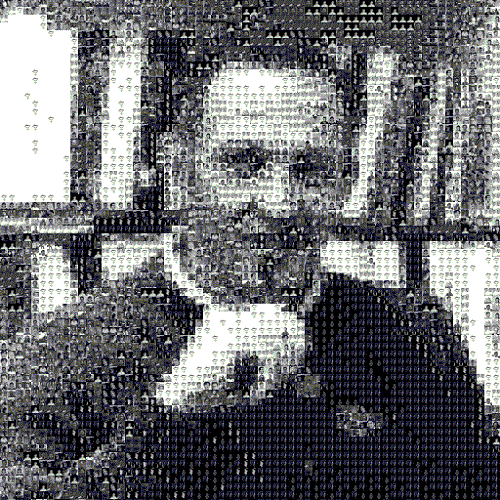 1998 marks the 25th anniversary of the program, so in honor of the occasion, Eric Haines assembled a mosaic image of various people who have passed through the lab. Don Greenberg is the founder and head of the Program of Computer Graphics at Cornell University.
Many thanks to Eric Haines for this image, and please visit his website for more information on how the image was created.
What follows is the table of images that were used to make up the mosaic image itself.
"Times used" is the number of times the image is used in the mosaic, i.e. the number of "pixels" this image replaced.
"Grayscale value" is the grayscale value (0-255) that the image represented.
| | | | |
| --- | --- | --- | --- |
| Image | Name | Times used | Grayscale value |
| | Alppay, Gun | 75 | 79.03 |
| | Arvo, Jim | 13 | 187.63 |
| | Baraff, David | 14 | 102.17 |
| | Barsky, Brian - now | 6 | 95.58 |
| | Barsky, Brian - using a tablet | 40 | 145.94 |
| | Barsky, Brian - then (from his Cornell ID) | 22 | 170.13 |
| | Baum, Dan - FutureMan | 86 | 49.66 |
| | Baum, Dan - then (prehistoric) | 120 | 42.47 |
| | Berggren, Martin | 13 | 135.06 |
| | Blocksom, Jon | 13 | 136.80 |
| | Carey, Rikk | 6 | 119.58 |
| | Chen, Eric | 6 | 92.45 |
| | Cohen, Michael | 6 | 122.40 |
| | Cohen, Michael - age 3 | 207 | 195.12 |
| | Cook, Rob | 15 | 90.65 |
| | Corson-Rikert, Jonathan - and friend | 6 | 89.18 |
| | Crane, Ted - doing Morris dance fooling | 7 | 115.09 |
| | Crane, Ted - now (in Puerto Rico) | 22 | 81.96 |
| | Crane, Ted - then | 26 | 129.07 |
| | Dorsey, Julie | 13 | 83.63 |
| | Dutre, Philip | 8 | 115.99 |
| | Feibush, Eliot | 6 | 82.48 |
| | Fernandez, Sebastian - about to be morphed | 15 | 95.75 |
| | Ferwerda, Jim | 6 | 91.47 |
| | Foo, Sing-Choog | 21 | 148.41 |
| | Gelb, Dan | 17 | 92.05 |
| | Gelb, Dan - 3D head scan | 14 | 92.91 |
| | Georgiades, Priamos - clown guy | 6 | 89.67 |
| | Georgiades, Priamos - now | 30 | 177.15 |
| | Georgiades, Priamos - then | 11 | 95.42 |
| | Gerstle, Walter | 31 | 98.18 |
| | Goral, Cindy | 30 | 74.50 |
| | Greenberg, Don - ooo, he's his own pixel | 22 | 105.14 |
| | Greger, Gene - old | 6 | 156.38 |
| | Greger, Gene - doh! It's just a close up | 12 | 136.05 |
| | Haber, Robert | 14 | 113.55 |
| | Haines, Eric | 8 | 160.19 |
| | Haines, Eric - 3D head scan | 136 | 66.41 |
| | Hajjar, Jerry | 8 | 134.16 |
| | Hall, Roy | 17 | 104.12 |
| | Hart, David | 178 | 39.13 |
| | Hedelman, Harold - ride 'em | 6 | 95.49 |
| | Hsieh, Patrick | 14 | 128.71 |
| | Hubbard, Philip | 6 | 92.90 |
| | Hubbard, Philip - jamming | 15 | 103.42 |
| | Immel, Dave | 10 | 151.81 |
| | Isaacs, Paul | 14 | 151.43 |
| | Joblove, George | 14 | 108.42 |
| | Joseph, Jonathan - flauting | 7 | 152.27 |
| | Joseph, Jonathan - with flipper | 6 | 82.53 |
| | Joseph, Jonathan - now | 11 | 122.78 |
| | Joseph, Jonathan - then (in drag) | 6 | 117.18 |
| | Kartch, Dan | 338 | 231.59 |
| | Kershaw, Kathy - 1992 | 6 | 120.62 |
| | Kershaw, Kathy - glueing thesis pictures | 15 | 173.54 |
| | Kershaw, Kathy - 1995 (wedding) | 6 | 120.77 |
| | Kindlmann, Gordon - strung out | 22 | 98.42 |
| | Kindlmann, Gordon - with shrubbery | 6 | 116.66 |
| | Kindlmann, Gordon | 11 | 155.82 |
| | Kochevar, Peter | 7 | 116.97 |
| | Kunz, Andrew | 40 | 189.55 |
| | Kunz, Andrew - about to be morphed | 38 | 106.16 |
| | Kunz, Andrew - morphed | 6 | 104.76 |
| | Lafortune, Eric | 6 | 103.42 |
| | Lengyel, Jed - now | 23 | 86.69 |
| | Lengyel, Jed - then (Cornell photo ID) | 24 | 86.72 |
| | Levoy, Marc | 40 | 54.07 |
| | Lischinski, Dani | 6 | 98.22 |
| | Lobb, Richard | 41 | 100.23 |
| | Lu, Wei | 19 | 163.27 |
| | Lu, Wei - the heroic side | 15 | 118.28 |
| | Lu, Wei - then | 8 | 159.91 |
| | Malone, Michael | 14 | 120.85 |
| | Marschner, Steve | 6 | 82.51 |
| | Martha, Luiz - at Rand Hall | 6 | 114.83 |
| | Martha, Luiz - now, in Rio | 32 | 109.22 |
| | Meyer, Gary | 8 | 123.67 |
| | Monks, Michael | 67 | 73.20 |
| | Monks, Michael - then, with family | 17 | 84.74 |
| | Monks, Michael - then | 6 | 89.33 |
| | Monks, Michael | 16 | 90.26 |
| | Nall, Dan | 7 | 160.08 |
| | Novins, Kevin | 27 | 132.90 |
| | O'Connor, Tim | 16 | 119.48 |
| | O'Connor, Tim - then, with family | 6 | 82.50 |
| | O'Connor, Tim - wild man | 7 | 153.73 |
| | O'Connor, Tim - then | 103 | 57.21 |
| | Pattanaik, Sumant | 37 | 183.26 |
| | Peng, Liang | 6 | 135.78 |
| | Perucchio, Renato | 6 | 89.04 |
| | Rand Hall (with Luiz Martha's head) | 18 | 93.97 |
| | Ramasubramanian, Mahesh | 6 | 116.08 |
| | Reichert, Mark | 59 | 56.98 |
| | Rushmeier, Holly | 15 | 81.14 |
| | Rushmeier, Holly - measuring light at Rand Hall | 6 | 134.69 |
| | Rushmeier, Holly - measuring light from the Pietà | 26 | 54.82 |
| | Salesin, Dave | 45 | 73.74 |
| | Schulman, Michael | 861 | 29.64 |
| | Shaw, Erin | 44 | 126.33 |
| | Sheldon, Hurf | 17 | 167.31 |
| | Shirley, Pete | 12 | 131.03 |
| | Sillion, Francois | 6 | 115.78 |
| | Srivastav, Sanjeev | 6 | 93.76 |
| | Stettner, Adam | 6 | 105.15 |
| | Swenson, Dan | 16 | 173.57 |
| | Theory Center | 30 | 112.19 |
| | Toler, Corey | 17 | 82.61 |
| | Torrance, Ken | 23 | 89.01 |
| | Trumbore, Ben | 6 | 112.20 |
| | Verbeck, Chan | 9 | 157.54 |
| | Wade, Bretton - from his cool web page | 45 | 50.43 |
| | Wade, Bretton | 11 | 122.32 |
| | Wallace, John | 35 | 66.65 |
| | Wanuga, Paul | 40 | 139.42 |
| | White, Donald | 10 | 165.63 |
| | Wong, Eric | 51 | 76.86 |
| | Zareski, David - at Cornell | 14 | 113.49 |
| | Zareski, David | 125 | 69.13 |
| | Zatz, Harold - rotating 3D head scan | 391 | 17.61 |
| | pixel, black | 30 | 0.00 |
| | pixel, white | 271 | 255.00 |