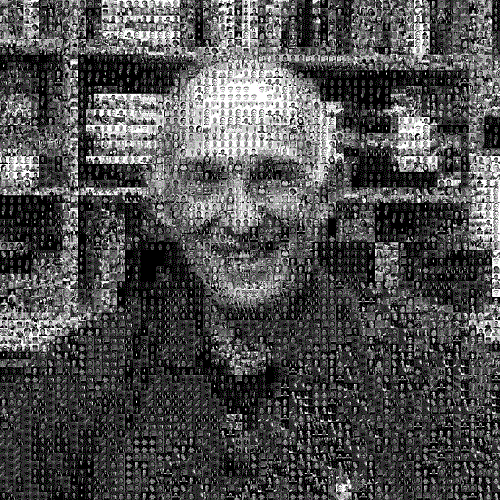 Photos collected for the reception in honor of Donald P. Greenberg on April 12th, 2017, at the Autodesk Gallery, San Francisco.
Many thanks to Eric Haines for this image, and please visit his website for more information on this image and the original 1998 version.
What follows is the table of images that were used to make up the mosaic image itself.
"Times used" is the number of times the image is used in the mosaic, i.e. the number of "pixels" this image replaced.
"Grayscale value" is the grayscale value (0-255) that the image represented.
"1998" means the photo was in the 1998 photomosaic (and that there's a newer photo of the person), not that it was taken in 1998.
| | | | |
| --- | --- | --- | --- |
| Image | Name |  Times used  |  sRGB grayscale  |
| | Alppay, Gun | 4 | 93.25 |
| | Ambrosi, Dan - 2014 | 5 | 190.90 |
| | Ambrosi, Dan - as Doc Brown | 4 | 154.09 |
| | Ambrosi, Dan - college | 4 | 127.42 |
| | Ambrosi, Dan - headshot | 4 | 100.73 |
| | Arbree, Adam | 10 | 136.79 |
| | Arsenault, Dave | 4 | 122.94 |
| | Arvo, Jim | 7 | 102.22 |
| | Arvo, Jim - 1998 | 21 | 207.93 |
| | Arvo, Jim - with Steve Westin, 2002 | 4 | 146.08 |
| | Bala, Kavita | 4 | 106.65 |
| | Bala, Kavita - with Don and Eric Haines, Vancouver | 4 | 164.97 |
| | Baraff, David | 4 | 122.42 |
| | Baraff, David - 1998 | 4 | 120.19 |
| | Barsky, Brian | 4 | 192.05 |
| | Barsky, Brian - 1998 | 4 | 106.89 |
| | Barsky, Brian - Cornell ID | 4 | 184.68 |
| | Barsky, Brian - drafting at Cornell | 4 | 156.39 |
| | Bass, Carl | 4 | 175.90 |
| | Bass, Carl - from the future | 4 | 100.33 |
| | Bass, Carl - talking | 114 | 76.71 |
| | Bass, Carl - workshop | 4 | 149.76 |
| | Baum, Dan | 5 | 187.88 |
| | Baum, Dan - 1998 | 219 | 55.83 |
| | Baum, Dan - back then | 175 | 64.45 |
| | Berggren, Martin | 5 | 151.65 |
| | Bibliowicz, David | 5 | 121.67 |
| | Bigas-Valedon, Modesto | 17 | 207.61 |
| | Blocksom, Jon | 5 | 150.07 |
| | Box, Cornell - measured | 4 | 114.20 |
| | Brewer, Sarah Katherine | 4 | 121.55 |
| | Brock, Phil | 5 | 127.84 |
| | Brown, Fran | 4 | 162.45 |
| | Brown-Aiste, Janet | 4 | 119.70 |
| | Butts, Andrew | 4 | 155.99 |
| | Carey, Rikk | 4 | 184.81 |
| | Carey, Rikk - 1998 | 4 | 140.95 |
| | Cassab-Gheta, Nicholas - with Andres Gutierrez | 4 | 166.82 |
| | Center, Cornell Theory | 4 | 120.23 |
| | Chen, Eric | 4 | 167.18 |
| | Chen, Eric - 1998 | 4 | 115.39 |
| | Chen, Eric - head scan | 5 | 122.88 |
| | Chogyen, Pema Losang | 4 | 111.12 |
| | Cohen, Ann - with John, Carol, and Joe | 4 | 134.60 |
| | Cohen, Michael | 4 | 119.48 |
| | Cohen, Michael - 1998 | 4 | 135.16 |
| | Cohen, Michael - age 3 | 8 | 201.48 |
| | Cook, Rob | 4 | 106.11 |
| | Cook, Rob - with George Joblove, Dallas 2002 | 20 | 88.75 |
| | Cook, Rob - 1998 | 5 | 96.77 |
| | Corson-Rikert, Jonathan | 4 | 142.73 |
| | Corson-Rikert, Jonathan - 1998 | 4 | 120.00 |
| | Corson-Rikert, Jonathan - bowling with PCGers | 4 | 95.42 |
| | Crane, Ted - 1998 | 4 | 143.37 |
| | Crane, Ted - back then | 4 | 123.09 |
| | Crane, Ted - building his house, 2013 | 4 | 100.60 |
| | Crane, Ted - fooling | 10 | 94.08 |
| | Dill, John | 30 | 219.88 |
| | Dockstader, Lee | 4 | 115.17 |
| | Dong, Zhao | 4 | 180.63 |
| | Donikian, Mike - 1 of 3 | 11 | 204.73 |
| | Donikian, Mike - 2 of 3 | 5 | 141.88 |
| | Donikian, Mike - 3 of 3 | 4 | 181.54 |
| | Dorsey, Julie | 4 | 137.26 |
| | Dorsey, Julie - 1998 | 4 | 104.59 |
| | Duff, William | 4 | 157.07 |
| | Dumont, Reynald | 4 | 113.67 |
| | Dutre, Phil - back in the day | 4 | 144.82 |
| | Dutre, Philip | 4 | 137.26 |
| | Dutre, Philip - 1998 | 4 | 135.20 |
| | Dykes, Gene | 4 | 146.35 |
| | Elmquist, Kells | 10 | 196.05 |
| | Feibush, Eliot | 4 | 115.15 |
| | Feibush, Eliot - 1998 | 4 | 111.11 |
| | Feldman, Stuart | 4 | 133.94 |
| | Feldman, Stuart - with Dani Lischinski, Dallas 2002 | 5 | 126.47 |
| | Felser, Larry | 4 | 110.41 |
| | Fernandez, Sebastian | 4 | 142.59 |
| | Fernandez, Sebastian - 1998 | 4 | 116.86 |
| | Fernandez, Sebastian - current | 5 | 140.12 |
| | Fernandez, Sebastian - morph | 4 | 109.56 |
| | Fernando, Randy | 4 | 162.82 |
| | Ferwerda, Jim | 4 | 127.77 |
| | Ferwerda, Jim - 1998 | 9 | 102.27 |
| | Foo, Sing-Choong | 4 | 172.48 |
| | French, Ellen | 4 | 119.99 |
| | French, Ellen - at a cookout | 4 | 112.62 |
| | French, Ellen - in office | 25 | 86.23 |
| | Fu, SuAnne | 4 | 149.87 |
| | Gelb, Dan | 4 | 174.04 |
| | Gelb, Dan - 1998 | 5 | 97.95 |
| | Gelb, Dan - head scan | 4 | 121.47 |
| | Gelb, Dan - with baby | 4 | 118.42 |
| | Gensler, Art | 5 | 193.42 |
| | Gensler, Art - 2 | 4 | 167.22 |
| | Gensler, Art - 3 | 5 | 143.98 |
| | Gensler, Art - 4 | 4 | 182.29 |
| | George, David | 4 | 122.55 |
| | Georgiades, Priamos | 4 | 105.42 |
| | Georgiades, Priamos - 1998 | 4 | 118.96 |
| | Georgiades, Priamos - back then | 4 | 174.74 |
| | Georgiades, Priamos - funny | 4 | 100.27 |
| | Gerstle, Walter | 4 | 200.19 |
| | Gerstle, Walter - 1998 | 4 | 115.27 |
| | Goral, Cindy | 4 | 150.53 |
| | Goral, Cindy - 2013 | 4 | 133.51 |
| | Goral, Cindy - and Jerry Scharf | 4 | 110.45 |
| | Goral, Cindy - inside | 4 | 119.66 |
| | Greenberg, Don | 4 | 137.80 |
| | Greenberg, Don - and alumni | 22 | 82.29 |
| | Greenberg, Don - graduating in 1968 | 8 | 94.67 |
| | Greenberg, Don - with Edgar Velazquez at Commencement, 2015 | 4 | 147.16 |
| | Greenberg, Don - with Eric Haines and Kavita Bala, Vancouver, 2011 | 4 | 165.01 |
| | Greenberg, Don - with Kim Shelley, Dan Ambrosi, and X | 4 | 130.35 |
| | Greenberg, Don - with Phil Brock and Michael Cohen | 4 | 111.43 |
| | Greenberg, Don - with students | 8 | 167.39 |
| | Greenberg, Don - with students, among the redwoods | 54 | 71.03 |
| | Greenberg, Don - with yet more students | 4 | 123.52 |
| | Greenberg, Don's family | 4 | 187.09 |
| | Greenberg, Don's grandsons | 6 | 98.99 |
| | Greenberg, Don's parents | 5 | 148.49 |
| | Greenberg, Family - Switzerland 1971 | 4 | 114.05 |
| | Greenberg, Iris and Don | 5 | 127.92 |
| | Greenberg, Iris and Leyna | 4 | 144.52 |
| | Greenberg, Stefan | 20 | 89.13 |
| | Greenberg, Stefan - header | 4 | 106.46 |
| | Greger, Gene | 5 | 156.23 |
| | Greger, Gene - 1998 | 4 | 162.04 |
| | Gull, David | 8 | 131.25 |
| | Haber, Robert | 4 | 149.80 |
| | Haber, Robert - 1998 | 4 | 122.48 |
| | Haines, Eric - 1998 | 9 | 169.42 |
| | Haines, Eric - at Udacity | 4 | 146.56 |
| | Haines, Eric - head scan | 22 | 81.90 |
| | Haines, Eric - with family | 4 | 116.97 |
| | Hajjar, Jerry - 1998 | 4 | 165.85 |
| | Hajjar, Jerry - 2011 | 6 | 97.57 |
| | Hajjar, Jerry - 2012 | 4 | 127.03 |
| | Hall, Rand | 4 | 142.54 |
| | Hall, Roy | 5 | 171.31 |
| | Hall, Roy - 1998 | 6 | 130.66 |
| | Hanna, Samir | 4 | 109.64 |
| | Harrelson, Dottie | 7 | 96.44 |
| | Harrington, Mark - in Capetown | 4 | 192.67 |
| | Harrington, Mark - in Istanbul | 4 | 163.56 |
| | Harrington, Mark - in old office building, Chicago | 4 | 122.67 |
| | Harrington, Mark - toasting | 4 | 171.62 |
| | Hart, David | 4 | 169.09 |
| | Hart, David - 1998 | 44 | 40.28 |
| | Hart, David - getting bonked by his second son, Sam | 4 | 162.09 |
| | Hart, David - working on thesis | 49 | 80.86 |
| | Hasan, Milos | 4 | 182.64 |
| | Hedelman, Harold | 8 | 202.69 |
| | Hedelman, Harold - yee-haw! | 4 | 117.94 |
| | Higgins, Joe | 4 | 136.81 |
| | Himlan, Ted - Jamaica, with his kids | 5 | 132.77 |
| | Himlan, Ted - formal | 4 | 166.67 |
| | Himlan, Ted - thumbs up | 4 | 140.66 |
| | Himlan, Ted - with Grayson Alexander and snake | 4 | 143.20 |
| | Hooper, Gary | 4 | 186.34 |
| | Hsieh, Patrick | 6 | 174.48 |
| | Hsieh, Patrick - 1998 | 4 | 153.95 |
| | Hubbard, Philip | 4 | 140.99 |
| | Hubbard, Philip - 1998 | 6 | 99.81 |
| | Hubbard, Philip - funny | 4 | 126.08 |
| | Immel, Dave | 4 | 139.40 |
| | Immel, Dave - 1998 | 4 | 160.54 |
| | Isaacs, Paul | 10 | 93.33 |
| | Isaacs, Paul - 1998 | 4 | 165.40 |
| | Isaacs, Paul - with Kathy Kershaw, Jim Mahoney, and John Wallace, 2002 | 4 | 121.20 |
| | Ismert, Ryan | 4 | 175.52 |
| | James, Doug | 4 | 184.24 |
| | Joblove, George | 7 | 116.88 |
| | Joblove, George - 1998 | 4 | 131.61 |
| | Joseph, Jonathan - 1998 | 4 | 138.59 |
| | Joseph, Jonathan - back then | 4 | 100.47 |
| | Joseph, Jonathan - funny | 4 | 146.96 |
| | Joseph, Jonathan - with flute | 4 | 172.53 |
| | Kartch, Dan | 17 | 235.76 |
| | Kay, Douglas | 4 | 140.21 |
| | Kershaw, Kathy | 24 | 86.53 |
| | Kershaw, Kathy - 1992 graduate of PCG | 4 | 133.81 |
| | Kershaw, Kathy - 1992 thesis joy | 5 | 188.28 |
| | Kershaw, Kathy - with Bill Shatner | 4 | 136.21 |
| | Kider, Joe | 4 | 191.68 |
| | Kindlmann, Gordon | 4 | 106.35 |
| | Kindlmann, Gordon - 1998 | 4 | 176.89 |
| | Kindlmann, Gordon - with shrub | 4 | 146.36 |
| | Kindlmann, Gordon - with string | 4 | 121.69 |
| | Knowlton, Dan | 6 | 100.09 |
| | Kochevar, Peter - 1998 | 4 | 136.40 |
| | Koestner, Kevin | 4 | 135.63 |
| | Kowalski, Jeff | 4 | 117.95 |
| | Kowalski, Jeff - and Don, and PS2 | 12 | 97.48 |
| | Kowalski, Jeff - back then | 41 | 83.79 |
| | Kravetz, Adam | 4 | 100.22 |
| | Kravetz, Adam - skiing powder | 20 | 222.85 |
| | Kravetz, Adam - with Ryan Williams and Vikash Goel, 2001 | 45 | 79.35 |
| | Kunz, Andrew | 4 | 147.12 |
| | Kunz, Andrew - 1998 | 4 | 203.14 |
| | Kunz, Andrew - morph | 4 | 115.07 |
| | Kunz, Andrew - morph 2 | 4 | 111.27 |
| | Lackey, Jesse | 5 | 153.82 |
| | Lafortune, Eric | 4 | 174.16 |
| | Lafortune, Eric - 1998 | 4 | 122.07 |
| | Lafortune, Eric - at his PCG birthday party, with Corey and David | 8 | 93.64 |
| | Lengyel, Jed | 4 | 121.07 |
| | Lengyel, Jed - 1998 | 4 | 109.02 |
| | Lengyel, Jed - back then | 6 | 99.10 |
| | Letteron, Henry | 4 | 174.86 |
| | Levoy, Marc | 10 | 101.14 |
| | Levoy, Marc - 1998 | 194 | 62.33 |
| | Lischinski, Dani | 4 | 130.51 |
| | Lischinski, Dani - 1998 | 4 | 114.02 |
| | Lobb, Richard | 4 | 164.79 |
| | Lobb, Richard - 1998 | 4 | 120.68 |
| | Look, Doug - Multi Touch | 4 | 112.41 |
| | Look, Doug - insubordination | 65 | 71.72 |
| | Look, Doug - with Moreno Piccolotto, AIA 2001 | 4 | 134.07 |
| | Lu, Wei | 4 | 176.84 |
| | Lu, Wei - back then | 4 | 185.98 |
| | Lu, Wei - strange | 4 | 135.61 |
| | Mahoney, Jim | 5 | 125.33 |
| | Mahoney, Jim - then | 8 | 127.78 |
| | Malone, Michael | 5 | 106.43 |
| | Marschner, Steve | 4 | 122.32 |
| | Martha, Luiz | 4 | 98.58 |
| | Martha, Luiz - at Rand Hall | 4 | 117.91 |
| | Martha, Luiz - in Rand | 4 | 147.76 |
| | Martha, Luiz - in Rio | 5 | 132.75 |
| | Mathews, Brian | 4 | 194.46 |
| | Maynes, Lisa | 4 | 200.14 |
| | McCrone, Colin - high above Cayuga's waters | 4 | 151.07 |
| | Metzger, Dave | 4 | 157.70 |
| | Meyer, Gary | 4 | 118.51 |
| | Meyer, Gary - 1998 | 4 | 141.56 |
| | Monks, Michael | 23 | 82.36 |
| | Monks, Michael - 2 | 5 | 104.33 |
| | Monks, Michael - old | 4 | 142.09 |
| | Monks, Michael - old 2 | 6 | 99.85 |
| | Montague, Harvey | 4 | 161.24 |
| | Morse, Chris | 4 | 202.19 |
| | Morse, Chris - in another world | 4 | 121.71 |
| | Morse, Chris - in thought | 4 | 113.96 |
| | Nall, Dan | 4 | 132.34 |
| | Nall, Dan - 1998 | 5 | 172.83 |
| | Novins, Kevin | 4 | 139.05 |
| | Novins, Kevin - with Steve Westin, 2002 | 5 | 130.09 |
| | O'Connor, Tim | 5 | 145.83 |
| | O'Connor, Tim - family then | 4 | 117.83 |
| | O'Connor, Tim - funny | 4 | 184.27 |
| | Ochshorn, Jonathan | 4 | 178.38 |
| | PCG, Video Editing - 2005 | 4 | 113.67 |
| | PS1, Evans & Sutherland - from 1976, courtesy of Robert Thornton | 102 | 23.93 |
| | Pattanaik, Sumant | 4 | 116.28 |
| | Peng, Liang | 159 | 48.78 |
| | Peng, Liang - 1998 | 4 | 156.64 |
| | Perucchio, Renato | 4 | 100.47 |
| | Perucchio, Renato - 1998 | 5 | 104.49 |
| | Piccolotto, Moreno | 4 | 200.56 |
| | Piccolotto, Moreno - hot tubbing with David Hart and Phil Dutre | 5 | 153.46 |
| | Piccolotto, Moreno - then | 4 | 121.12 |
| | Piccolotto, Moreno - with Don Greenberg, in California | 4 | 124.51 |
| | Pittman, Jon | 5 | 105.28 |
| | Pittman, Jon - with 3D print | 4 | 117.92 |
| | Popolo, Liz | 4 | 144.46 |
| | Pruyn, Peter | 4 | 156.96 |
| | Pruyn, Peter - with Don and Don's VW | 4 | 110.58 |
| | Ramas, Mahesh | 4 | 166.58 |
| | Ramas, Mahesh - 1998 | 4 | 133.27 |
| | Ramas, Mahesh - with David Hart, Dan Gelb, and Corey Toler-Franklin | 4 | 166.91 |
| | Ramas, Mahesh - with Don, 2006 | 4 | 107.52 |
| | Recker, Rod | 4 | 195.32 |
| | Reiche, Cari | 4 | 133.80 |
| | Reichert, Mark | 14 | 199.31 |
| | Reichert, Mark - 1998 | 48 | 79.90 |
| | Robertson, Barbara | 4 | 135.66 |
| | Robertson, Barbara - closeup | 4 | 157.36 |
| | Robertz, Wayne | 4 | 120.56 |
| | Robertz, Wayne - with Auggie, 21 months old grandson, May 2016 | 10 | 89.11 |
| | Robertz, Wayne - with his four daughters | 5 | 98.57 |
| | Robertz, Wayne - with wife Dianne and daughter Sarah May 2004 | 4 | 135.50 |
| | Rushmeier, Holly | 6 | 94.32 |
| | Rushmeier, Holly - 1998 | 4 | 107.09 |
| | Rushmeier, Holly - measuring in 1984 | 9 | 152.97 |
| | Rushmeier, Holly - more measuring in 1998 | 72 | 69.50 |
| | Salesin, David | 73 | 41.52 |
| | Salesin, David - 1998 | 7 | 93.77 |
| | Salesin, David - current | 10 | 148.23 |
| | Sarachan, Dave | 5 | 160.39 |
| | Schulman, Michael | 109 | 42.01 |
| | Sechrest, Stuart | 4 | 143.57 |
| | Selan, Jeremy | 5 | 133.25 |
| | Shastry, Anirudh | 4 | 115.45 |
| | Shaw, Erin | 4 | 143.44 |
| | Sheldon, Hurf | 18 | 89.95 |
| | Sheldon, Hurf - 1998 | 4 | 172.61 |
| | Sheldon, Hurf - back in the day | 4 | 113.56 |
| | Shelley, Kim | 4 | 94.71 |
| | Shirley, Pete - 1998 | 4 | 146.80 |
| | Shirley, Pete - with Tiago Ize at the Oscars, 2017 | 43 | 83.48 |
| | Sillion, Francois | 5 | 98.58 |
| | Sillion, Francois - 1998 | 4 | 123.54 |
| | Slivka, Rebecca | 4 | 190.36 |
| | Slivka, Rebecca - past | 4 | 154.64 |
| | Smits, Brian | 4 | 119.10 |
| | Smits, Brian - with Len Wanger and Harold Zable | 4 | 121.02 |
| | Snavely, Noah | 4 | 133.79 |
| | Spallone, Nathan | 5 | 154.99 |
| | Srivastav, Sanjeev | 4 | 133.65 |
| | Srivastav, Sanjeev - 1998 | 4 | 109.20 |
| | Stettner, Adam | 4 | 113.29 |
| | Stettner, Adam - 1998 | 4 | 137.18 |
| | Strang, Tim | 7 | 158.71 |
| | Sullivan, Andrew | 5 | 149.34 |
| | Swenson, Dan | 4 | 166.01 |
| | Swenson, Dan - 1998 | 14 | 185.40 |
| | Tampieri, Filippo | 4 | 147.96 |
| | Thornton, Robert - 2010 | 4 | 148.03 |
| | Thornton, Robert - 2015 | 7 | 175.28 |
| | Thornton, Robert - with Cornell E&S PS1, 1976 | 28 | 86.78 |
| | Tijerina, Jose Miguel | 4 | 104.79 |
| | Tole, Parag | 5 | 147.73 |
| | Toler-Franklin, Corey | 8 | 95.73 |
| | Toler-Franklin, Corey - 1998 | 4 | 105.10 |
| | Toler-Franklin, Corey - 2 | 17 | 88.59 |
| | Toler-Franklin, Corey - graduating with David Hart and Mahesh Ramas | 17 | 90.56 |
| | Tometsko, Ken | 10 | 89.11 |
| | Torrance, Ken | 4 | 175.80 |
| | Torrance, Ken - 1998 | 4 | 108.59 |
| | Torrance, Ken - 2 | 47 | 85.69 |
| | Trumbore, Ben | 7 | 109.73 |
| | Trumbore, Ben - 1998 | 4 | 135.03 |
| | Trumbore, Ben - and students minigolfing in Cortland | 4 | 109.75 |
| | Tumblin, Jack | 4 | 158.69 |
| | Tumblin, Jack - another pic | 4 | 186.81 |
| | Tumblin, Jack - with Paul Debevec, at Cayuga Falls | 5 | 103.84 |
| | Vaughan, Moses | 4 | 156.71 |
| | Velazquez, Edgar | 4 | 140.85 |
| | Velazquez, Edgar - and Don at Commencement, 2015 | 4 | 154.76 |
| | Velazquez, Edgar - at BFC@PCG, 2005 | 4 | 109.35 |
| | Velazquez, Edgar - with Don at Commencement, 2015 | 4 | 133.76 |
| | Verbeck, Chan | 4 | 147.21 |
| | Verbeck, Chan - 1998 | 4 | 175.74 |
| | Verbeck, Chan - also 1998 | 5 | 127.06 |
| | Wade, Bretton | 53 | 39.97 |
| | Wade, Bretton - 1998 | 6 | 94.98 |
| | Wade, Bretton - 1998, 2 | 4 | 139.04 |
| | Wallace, John | 4 | 135.17 |
| | Wallace, John - 1998 | 128 | 73.76 |
| | Walter, Bruce - lost in VR | 4 | 113.61 |
| | Walter, Bruce - with daughter | 4 | 119.23 |
| | Walter, Bruce - with desk nearly as messy as Don's | 4 | 135.07 |
| | Wang, Jeff | 4 | 146.92 |
| | Wanger, Len | 4 | 144.19 |
| | Wanuga, Paul | 4 | 164.81 |
| | Wanuga, Paul - 1998 | 8 | 150.18 |
| | Watson, Louise | 20 | 91.59 |
| | Weghorst, Hank | 39 | 212.81 |
| | Weghorst, Hank - in the past | 14 | 88.62 |
| | Weingarten, Nick | 5 | 143.65 |
| | Weingarten, Nick - with Don | 5 | 151.67 |
| | Weingarten, Nick - with Don and Iris, Venice | 5 | 123.73 |
| | Weingarten, Nick - with Don in Venice | 4 | 116.28 |
| | Westin, Steve - with Ben Trumbore and Eric Haines, Dallas 2002 | 4 | 135.54 |
| | Weston, Jim | 4 | 142.86 |
| | White, Donald | 10 | 179.56 |
| | Whitted, Turner - laughing with Don | 8 | 96.80 |
| | Wong, Eric | 4 | 110.53 |
| | Wooge, Tom - BArch 78 | 4 | 164.64 |
| | Yee, Hector | 11 | 93.01 |
| | Zareski, David | 4 | 130.59 |
| | Zareski, David - comp | 4 | 113.58 |
| | Zatz, Harold | 105 | 69.23 |
| | Zatz, Harold - 1998 | 148 | 32.78 |
| | pixel, black | 22 | 0.00 |
| | pixel, white | 2 | 255.00 |