Animating the ivory-billed woodpecker.
Jeffrey Michael Wang.

Master's thesis, Cornell University, Jan 2007.

The proposed rediscovery of the Ivory-Billed Woodpecker by the Cornell Laboratory of Ornithology, while celebrated by some ornithologists, was debated by others. Central to the argument is the interpretation of a fuzzy video depicting a large black and white bird taking flight. This thesis describes the creation of a physiologically-accurate animation of a flying Ivory-Billed Woodpecker in hope that it can be one day used to verify the rediscovery. A preserved specimen, with its internal organs and skeleton intact, was CT scanned and reconstructed. The resulting volumetric data provided precise measurements and proportions of the skin and skeleton for the animation. To feather the bird, a procedural system modeled and animated the important feathers of interest, those which lie on the Ivory-Billed's wings. The animation is currently directed using data adapted from previously published ornithological research on the kinematics of bird flight. However, this thesis represents a foundation for research to make animation of avian flight physically accurate as well.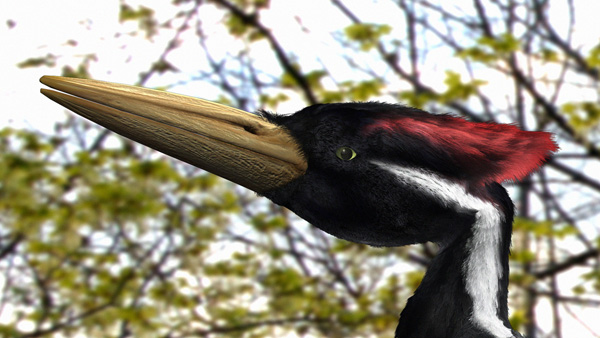 This paper is available as a PDF file Wan07.pdf (5.6M).